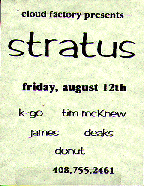 ---
This event was at the canyon with Djs Deaks, Tim McKnew, K-Go, James and Donut. We had a map point and asked for $3. This was received well and we enforced our policy of never turning anyone away from one of our events for lack of funds. The canyon is a beautiful spot near where we went to high school. This night happened to be the night of the biggest meteor shower of the year and we were treated to a *spectacular* light show by Mother Nature. Some of the event was video taped [maybe someday I'll see it] and we found out how dark the site is at night [meaning we think about light when we go there now]. Even thought you couldn't see anyone it was a nice event and we broke even and compensated for the last party which was our financial goal of the night.
---
Review by Deaks to sfraves The partying started off Friday night down here in Monterey. After the success of the last Cloud Factory party, and not having talked to Scott or anyone for two weeks, I wasn't sure how well this one was going to go off. My fears were soon calmed after I found out we had an amazing site in a canyon, and the weather was absoloutly perfect. We had our black lights, but the shooting stars provided a once in a lifetime light show.
We had to break a few locks to get on to the property and even with nearly 50 or more cars pouring down this deserted road, we never once had problems with the authorities :)
A large crowd from Monterey showed up and many thanks to those who came down from Santa Cruz at 4 am. The party peaked with about 150 people and I would say 200+ came throughout the night. The musical selection encompassed the entire spectrum from house to trance to breakbeat, unfortunatley, we didn't get it on DAT this time.. Oh well :)
Kudos to Bryce for deciding at the last minute to make the long drive down here and join us! We had a nice breakfast in Salinas after we packed everything up around 7:30am and then we all (almost all :) slept to 5pm...
---
Comments to <drenalin@hyperreal.com> Last Updated: December 13, 1995 -- Scott Nelson